We demand better: March and Rally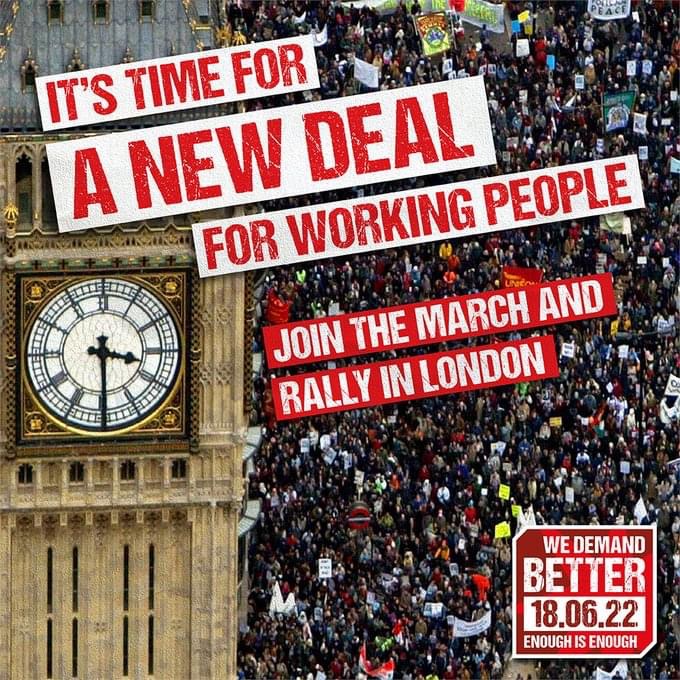 We're expecting a lively march, buzzing atmosphere and a collective voice shouting…
WE DEMAND BETTER!
National demonstration organised by the TUC.
Look out for the NUJ London Magazines Branch banner, meet 11:30pm corner of Regents Street and Margaret Street:
(https://goo.gl/maps/79yzBEHqQX6jWHFc6)
We'd love you to join other journalists on the demonstration, hope to see you there.
So, if you're planning on hitting the streets

this Saturday

, here's some handy tips on what to do and what to bring so you're fully prepared for the day.
March form-up order and route:

 

The front of the march will assemble outside the BBC, on Portland Place (near the junction with Langham Place), and the march will form up behind, going north towards Park Crescent. It will be easier to join the march from the rear. If you're joining the march as part of your union or a supporting organisations, please look for your

 

allocated section.

 

Stewards will be available to help you find your section.

Disabled access:

 

The

 

short march

 

will form up at Whitehall Place,

from 11am

. Accessible toilets at the form up and rally have been arranged – marchers should ask a steward for directions. There's a quiet venue rest stop during the route at St James church at Piccadilly.

 


The rally will have British Sign Language interpreter on the stage and

 

speech to text transcript. It will be live streamed on

 

TUC's Facebook page

 

with live captions.

First aid:

 

If you require medical attention on the day, there will be ambulances stationed at the front and rear of the march and a first aid tent at the rally.

Toilets: We've created an

 

interactive map

 

so you can find the nearest toilets on the march route.

Updates:

 

On the day we will use Twitter

 

@The_TUC

 

and communications via stewards to provide updates.

Need help on the day:

 

Please find the nearest steward who will be wearing a pink or orange TUC hi-vis vest and the will help you with your questions.